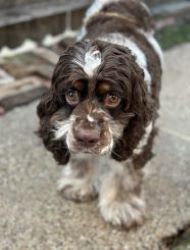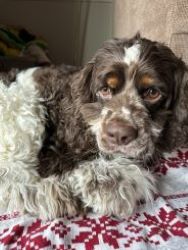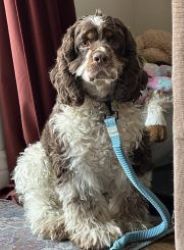 About
Amos is a special boy who needs some extra TLC. He shows signs of previous abuse/neglect, mostly in the form of extreme skittishness and hiding. He also doesn't seem to know what treats or toys are.
He has a lot of love to give and wants to trust people, but will need (likely) months of patient loving care by someone who can devote time to him and help him emotionally heal from whatever his previous situation was.
Amos does not seem to do well with other dogs, so he needs to be an only dog, he also prefers women and seems to avoid men. He would do best in a home without children.
Even though he is scared and emotionally hurt, Amos is very gentle with people. He will allow you to pick him up, have short cuddle sessions, and will follow you around the house to see what you are doing, but most of the time he prefers to lay down on his own in the corner of a room or under a table where he feels protected. He will come out of his hiding places and say hi when he feels comfortable.
Amos is fully crate trained and potty trained and does not bark excessively other than sometimes if he hears a doorbell. He loves to chase birds and squirrels in the back yard and enjoys being outside several times a day to explore.
Other than watching for ear infections, Amos does not appear to have other health issues. He has a chocolate & white coat that will require regular grooming.
This handsome boy has so much potential. We know that the right person who has the patience and time and love to give to Amos will reap the benefits.
Sex: Male
Age: 3.5 years
Color: Chocolate & White
Spayed/neutered: Yes
Good with dogs: No
Good with cats: Unknown
Good with kids: No
Housetrained: Yes
Special needs: