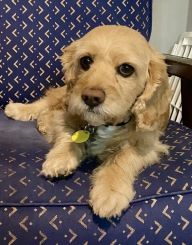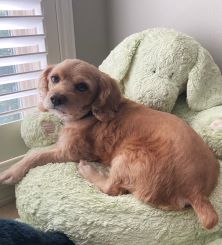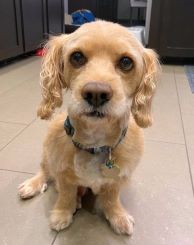 About
My name is Carter and I am such a cutie!  My owners were moving and surrendered me to a shelter, and DFW Cocker Rescue was nice enough to take me in.  When I got picked up, I hadn't been groomed in a very long time and had bad ear infections.  I got groomed, the vet got my ears cleaned out and medicated and now I feel much better. 

I'm 22 pounds and my records say that I'm 6 years old, but my foster mom thinks I act younger.  I'm not wild or anything, and I haven't chewed on anything that I'm not supposed to, I just act like a younger dog.
Speaking of chewing, I do enjoy a good bone or toy, but I am very protective and growl when anybody (human or canine) come near me.  I'm sad that I have a bad reputation, but I have also bitten because of protecting my bones.

I get along with my canine foster brothers and human foster sisters who are pre-teen age, but I would not trust me with anyone who doesn't understand to not approach me when I have a bone.  I've been evaluated by 2 trainers who have both said that I'm not aggressive.  I need to learn that items can be taken away from me so I'm going to need someone who's willing to work on training. 

Speaking of training, I was an outside dog so I do have accidents.  I do go outside and will tell you when I want to go out by scratching at the door, but I don't always make it outside before I go.  I sleep in my foster parents' bed and can hold it all night, but I will need someone who will work with me to learn that it's not OK to potty inside. 

I am very interested in human food and will be right by your side when you're cooking or eating.  I don't beg, but I'll show you my big brown eyes and want to make sure that you know I'm available to taste test should you need my help.

I love to be pet and rubbed and cuddle with my foster family on the couch or in bed, and it's not unusual for me to climb in someone's lap. I'll show you how much I'm enjoying it with my wiggle waggle (aka my tail).  My foster dad calls me, "The Happy Guy."

My foster mom says that I need to find my furever home before she makes me a foster failure.
Sex: Male
Age: 6 years
Color: Buff
Spayed/neutered: Yes
Good with dogs: Yes
Good with cats: Unknown
Good with kids: Unknown
Housetrained: No
Special needs: