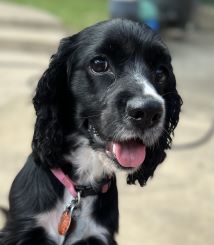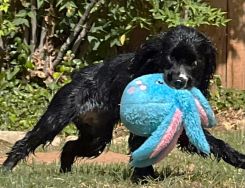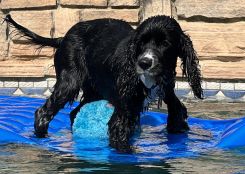 About
Hi, my name is Dolly and I am 1 year old. My foster mom says I am the Energizer Bunny! I hardly ever settle down until I just pass out because I'm so tired. My owners were an older couple who couldn't keep up with me, so I'm looking for a forever family who will embrace my puppy energy. I am fast and I will follow you everywhere, so I'm always under your feet. I was never potty trained, so my foster mom and I have been working on that and she says I am doing much better. I have learned to go in and out of the doggie door, but I think I am going outside to play and jump in the pool and sometimes I forget to potty while I'm out there.
My foster mom has found that I love to play, LOVE to swim as long as my foster mom is out with me, and I love to cuddle in bed. I played on the raft one afternoon when some friends were over and had a blast. Then when I ran out the door the next morning and saw the raft I just jumped on it and floated out into the middle of the pool. My foster mom said "now what are you going to do?" because there was no one in the pool but me so she had to get in and come get me. I don't do that anymore, but I just wanted to play and got excited. Now I wait for someone to be in the pool with me before I start acting like a crazy puppy and jump on the raft and take my toys and run, run, run around that pool!
I am very mouthy when you are playing with me, again, because I haven't been trained. I need someone who will work with me to teach me good manners, so I need to be in a home with no young children. I also get very excited and jump on people and I can jump really high! My foster mom thinks I could be an agility dog, but I just call it playing.
I am ready to go to my furever home, so please send in an application for "Dolly," I will make you smile and laugh every day!
Sex: Female
Age: 1 year
Color: Black & White
Spayed/neutered: Yes
Good with dogs: Yes
Good with cats: Unknown
Good with kids: Unknown
Housetrained: No
Special needs: