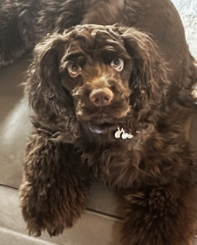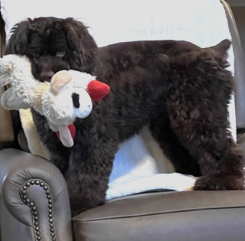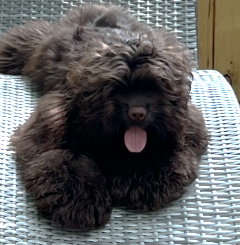 About
This handsome chocolate boy keeps everyone entertained with his playful antics. At one year old, Fergie is much like a lively, curious, agile toddler. He loves toys, playing fetch, and romping around in the yard. His favorite activity is to snuggle up in his person's lap, getting lots of pets on his super soft, fluffy coat. Fergie is a happy, goofy, fun-loving boy who will bring boundless joy into your life.
Fergie is not a fan of meeting new dogs, especially dogs that are bigger than him. However, once acquainted, he coexists peacefully with another dog in the household. He feels a little wary and barks when meeting strangers, but warms up quickly. He does have a bit of a wild side, jumping up on people, furniture, and countertops. Because of this, he may not be well suited for a family with very small children. He will need someone who is patient and tolerant of his energy and exuberance. He is intelligent and wants to please. Some obedience or clicker training would go a long way in helping Fergie reach his full potential to become a wonderful, loving, tail wagging companion.
Fergie is kennel trained and has had potty pad training in the past. With regular opportunities to go outside, he rarely has an accident in the house. He is one year old, neutered, up to date on his vaccinations, microchipped, and weighs about 30 pounds. He has no apparent allergies or special dietary needs. His coat is very soft, curly, and thick. It will require regular grooming to keep him looking gorgeous. He's definitely ready to become your new best friend!
Sex: Male
Age: 1 year
Color: Chocolate
Spayed/neutered: Yes
Good with dogs: Yes
Good with cats: Unknown
Good with kids: Unknown
Housetrained: Yes
Special needs: