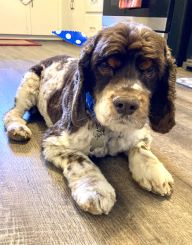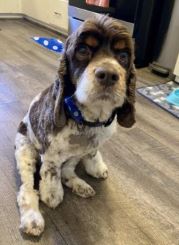 About
Ranger is about the best boy you can ask for! He is about 5-7 years old, 25lbs, with beautiful eyes and coloring, and super soft fur that gets curly when it's long. He came from a medical neglect situation, but this boy has obviously known love and is ready to give it freely.
A few important things to know about him before I get into his pros and cons:
1) He had serious ear infections and had to have surgery on both ears, which left him completely deaf. 2) The ear surgery also left him with dry eye, so he will need drops (right now it's only once a day and no big deal at all). 3) He's an itchy boy, so he might need allergy medicine, wipes, or other interventions to make sure he doesn't scratch himself too much.
Pros:
· He is so sweet and affectionate.
· He is potty trained and can use a dog door.
· He is kennel trained, but once he loves you he cries for a bit in the kennel because he just wants to be with you.
· He LOVES walks.
· He's dog friendly and people friendly.
· He loves to play with toys and bones and loves it when you get on the floor and play with him.
· He's a great alert dog, without the dangers of an aggressive dog. He'll bark to let you know someone is outside. But if it's someone coming to visit and they come inside, he's immediately their best friend.
· He's one of those dogs with the perfect amount of energy. He's ready to play and go on walks when you are, but if you want to lay around or need to work, he is perfectly happy curled up near you napping.
· He takes his eye drops and allergy meds like a champ.
Cons:
· He will door dart. He isn't trying to run away, he just has a serious fear of missing out.
· He will steal food off any table that is low enough for him to reach.
· He doesn't pull too bad on the leash, but he does switch from side to side.
· When he plays with other dogs he will hump them… so just something to be aware of.
Sex: Male
Age: 5-7 years
Color: Chocolate & White
Spayed/neutered: Yes
Good with dogs: Yes
Good with cats: Unknown
Good with kids: Unknown
Housetrained: Yes
Special needs: Deaf, but that doesn't slow him down.