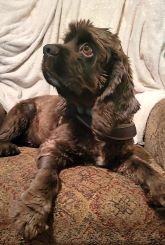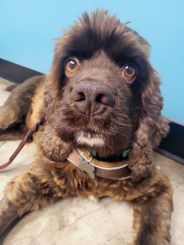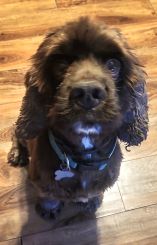 About
Introducing Sage!
Sage is a beautiful chocolate Cocker Spaniel with a chin kissed with white. He is around 4 years of age. He weighs around 30 pounds and is a tall, lean, lovable boy. When Sage and his sisters came into rescue from a difficult situation, DFW Cocker Spaniel Rescue named them after herbs. When you think of sage, you know that it is a unique flavor that brings warmth and complexity to dishes.
If you decide you want to make Sage a member of your family, you will be bringing a unique warmth into your home. Sage has the most beautiful, soulful eyes that will tell you everything that he is feeling at the moment. By looking at them, you will melt, and you will know when he is happy, or when he is scared and most of all when he is at peace.
Sage had to learn how to be a family member living in a house. Everything scared him at first, the television, treats, toys (especially the squeakers), kitchen appliances, the garage door and we can't forget the doorbell. Depending on the level of fear, he will either bark or pace. He has learned to tackle each fear and has learned to relax in the home environment. He is still learning, so new sounds or things will heighten his fear until he gets used to them. He no longer barks constantly at the television; however, he isn't into news, politics, Wheel of Fortune or his sports team losing- those things bring back the bark.
He LOVES playing with toys. The chew toys and the squeakers are his favorites. He went from hiding from toys to playing nonstop with his favorites. He does share well with others, even when his foster sibling doesn't share! From once being scared of kitchen noises, he is now curious about what is on the counters. His long body allows a peek or two, but gentle reminders are heeded by Sage. However, he never forgets and will always go back to see what he has missed or what he might be able to conquer.
He found his safe place in the crate, as long as the door stays open, but he doesn't like to be confined by himself and he will let you know. Sage is house-trained and knows how to use the dog door. When he gets anxious and begins to pace, you will need to watch him for accidents in the house. The more comfortable he becomes in his environment, the fewer accidents he has.
Sage is a great car rider and tries to go with you when you leave, but he does get anxious in public spaces. He doesn't pull, but he will either retreat or freeze when outside of his comfort zone. Sage would do best in a home where there is a human around most of the time or if there is another fur sibling to keep him company. He doesn't like being alone and will become anxious when left by himself.
Sage has the sweetest disposition and he is the BEST SNUGGLER of all time. He will crawl up in your lap and lean into you for the biggest Cocker Spaniel hug possible. He will stay there for hours if you will let him. He's still learning to respect personal space, and that may take a while, so you will have a bathroom buddy! He is a pleaser, and his true purpose in life is to give love and to be loved and valued. Due to his beginnings, he didn't get much love and he has a lot of love saved up to give, so hopefully his FUREVER family is ready to receive it soon.
If you are already an approved adopter and you're interested in meeting Sage, please email us at [email protected].
Saving Sage and his sisters from that difficult situation was possible because of your generous donations, like the ones that DFWCSR receives on North Texas Giving Day.
Sex: Male
Age: 4 years
Color: Chocolate
Spayed/neutered: Yes
Good with dogs: Yes
Good with cats: Unknown
Good with kids: Unknown
Housetrained: Yes
Special needs: