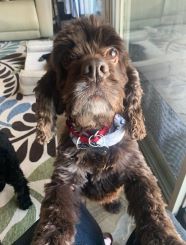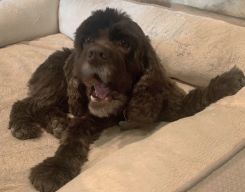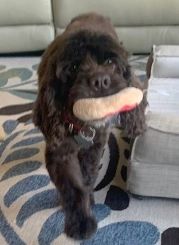 About
*AGE: 6 years *WEIGHT: 19 lbs.
*COAT TYPE: long/wavy expect shedding. He has a soft, wavy chocolate coat and enjoys a gentle brushing. He will need regular brushing and grooming every 8-12 weeks (approximately $75/groom).
*ENERGY LEVEL: Medium energy. Happy to hang out next to you but always ready for a walk.
*DOGS: Gets along well with his 3 foster dog siblings.
*CATS: Unknown *KIDS: Unknown, foster home does not have small children.
*CAR: Does well in the car *CRATE: Crate trained.
*HOUSE TRAINED: Working on it! He is pretty good with #2 outside and we are working on #1. He has quickly learned how to use the dog door.
*LEASH: Walks well on leash.
*FENCE REQUIREMENT: A physical fence is required.
* VET: Does well at the vet, his feet and under sides of his body are sensitive to him. This appears to be where his allergies most affect his skin. Spencer came to us when his elderly owner passed away.
Spencer is very affectionate and follows foster Mom like a shadow, so if you need that attached companion, Spencer is your guy! He joins us on the couch and either lays right next to us or draped across our lap. When foster Mom has been working at her desk too long, Spencer will come up and remind her it is time for a break by standing on his back feet and paws on Mom's chair arm rest.
He loves his toys! He especially likes for you to throw his ball or toys, then he can parade in front of you or his foster siblings what a great hunter he is. He is not possessive of toys, balls or bones and you can take them from his mouth with no issues to throw over and over again. Before bedtime he usually picks up one or more of his soft babies and goes round and round the front rooms, finding the correct place to put his babies away for the night. These are often 'buried' under invisible blankets or fluffed up chairs, it's important that you don't 'see' where he has hidden them or he has to do this all over again.
Spencer loves to go on walks and does well with a harness, however he does chew his leash! A metal chain leash or one of the very thick round leashes is needed (and bring a backup leash if you don't use the chain leash).
When we received Spencer he was/is missing hair on his buttocks and parts of his back legs. He was treated for a skin fungus and hopefully this treatment will slowly let his hair grow back. It is possible that if he has had this condition for an extended period, his hair may not grow back. In that case – I just call him 'Monkey Butt' and he seems just fine with that.
As with many Cockers, Spencer also seems to have allergies. The vet feels like these are environmental allergies, so we have changed his food to a fish based food (many dogs are allergic to chicken) and we are working with the vet to see if we can find the right allergy meds to ease his feet and leg itching. His new home will need to continue to work with their vet on his allergies.
Spencer currently sleeps in his crate at night. If the new family wants him to sleep in bed with them, they need to wait at least two weeks for Spencer to get used to all family members that might be climbing in bed also. Owners need to be aware that Spencer does not start to get protective of one person, and if he does, immediate training should be obtained to address this.
Although Spencer has been great in his foster home with foster Mom/Dad and fur siblings, if he feels he is not safe/threatened, he will likely give a warning nip/bite. This is his way to ask for some personal space. His new home should be aware to not put Spencer in a situation where he does not feel safe.
Sex: Male
Age: 6 years
Color: Chocolate
Spayed/neutered: Yes
Good with dogs: Yes
Good with cats: Unknown
Good with kids: Unknown
Housetrained: Yes
Special needs: