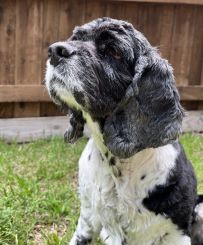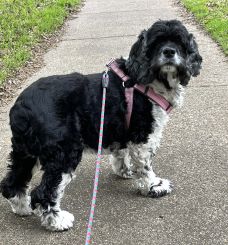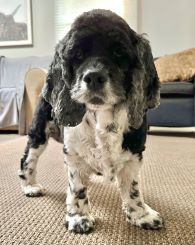 About
Tracy's estimated age is 5 years (her foster believes she's between 7 and 9) and she weighs 25 pounds. Tracy has two main loves in her life – cuddling and taking walks. If you sit on the couch, she'll plop herself into your lap. Tracy loves to sleep in your bed and give you full body cuddles. When it's time for a walk, she jumps with joy and tries to dance away when you put on her harness. Her excitement for walks can be challenging because she tends to gallop ahead periodically during the walk, so having her on a short leash helps.
Tracy is a social girl. She enjoys being around people and is good around other dogs. She is well mannered while riding in the car. She doesn't care much for toys, especially plush ones, but will play fetch with small squeaky balls.
Tracy communicates through a mixture of moans, groans, and low growl-like noises. None of these are aggressive, they just seem to be her way of talking to you. She loves looking out the window and alerting her people to passing strangers and animals. She also enjoys barking at her arch nemesis, the vacuum.
She is house trained and hasn't had any accidents in her foster home, although she may pee a little when she's nervous. She knows how to use a doggie door and usually sleeps through the night without having to go outside.
Tracy is a well-mannered dog. She has never been destructive or chewed anything other than her antler toys. She almost never begs. When left alone, she has shown no signs of separation anxiety and has free roam of the house. She isn't scared of thunderstorms and has no issue going out in the rain. Tracy hasn't shown any signs of aggression while in her foster home.
She is currently on four eye drop medications to be given 3 times throughout the day. She is an angel when getting them, so it's very easy to administer them. She has one mature cataract but sees very well out of the other eye. Tracy will require ongoing treatment from a veterinary ophthalmologist to keep her eyes comfortable and healthy.
Tracy has an irregular heartbeat and a murmur, a condition that progresses slowly with age. The cardiologist determined that no medication or activity restrictions are necessary at this time. She hears very well and will need to have her ears monitored for signs of chronic infection. She also may need seasonal allergy shots or pills.
Tracy will reward you by bringing laughs and being completely devoted to you. She is a wonderful companion. Her goofy personality, deep love of cuddling, and happy demeanor are sure to steal your heart.
Sex: Female
Age: 5-7
Color: Black & White
Spayed/neutered: Yes
Good with dogs: Yes
Good with cats: Unknown
Good with kids: Unknown
Housetrained: Yes
Special needs: