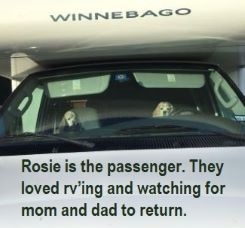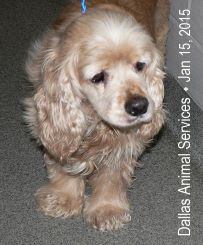 2009 - 2022
About
ROSIE'S LIFE
It was New Year's Eve, December 31, 2015, when Little Rosie was picked up by the Dallas Animal Services, and she quickly became a ward of DFW Cocker Spaniel Rescue. Her age was estimated to be between five to seven years old. On January 13, we went to the foster home of Pam with Janie, our other adopted cocker, to bring Rosie home. Pam was worried about the limp in Rosie's right front leg. We knew, within 10 minutes of leaving Pam's house that Rosie had adopted us. Clarence stopped about two blocks from Pam's house to get something to drink, and when he left the car Rosie whimpered and cried, and that was the only time during our life with Rosie that we ever heard Rosie cry. When Clarence came back to the car in just a few minutes, Rosie was so happy. She, and we, knew she had forever parents.
Rosie's problems started on February 19, 2016, when Pam called to let us know that Rosie had cancer in the right leg, as confirmed by many tests she had endured over the past several months. We were camping in Weatherford, Texas, where cocker rescue planned to pick her up for surgery. It was a crushing day, and Clarence was so very firm when he told Sheila, the president of the DFW Cocker Rescue, that Rosie was our little Rosie, and if she survived, she would live with us, and if she did not survive, she would still come home to be buried by us. She also later survived heart worm treatment, as well as three attacks of vestibular disease.
Well, little Rosie survived all of that, plus whatever she had endured before she was saved by DFW Cocker Rescue. She was beautiful. She could outrun Janie. Folks never realized she only had three legs until we pointed it out. She loved us and Janie and she chose to be with us, wherever we were in the house, the yard or the RV. Hence, she had five beds in the house and one in the RV. Wherever we were, she chose to be there between us.
But conditions changed over the years, so slowly that we did not even realize it until we looked back and realized that she had been slowing down. At first, she jumped up on the carpeted box onto our bed. Then after four or five years, she could only jump up on the box and we had to lift her up onto the bed. Then she could not jump up on the box. We had to lift her up all the way and lift her down. Finally, I so remember that night when she chose to not sleep with us. She stood between our bed and her little blue bed, looked back and forth to the two beds, and turned and walked to her blue bed. She never asked to sleep with us after that night. At first, she bounded up and down the steps of the RV, but the time came when we had to carry her up and down the steps. At first, she was full of energy, but the time finally came when she had to struggle to get up. It was a huge struggle to walk. We had to carry her outside to potty and to her food dish. During this ordeal, she never missed eating, even up to the morning we put her down. She never whimpered or cried and acted just as loving as always, but her mom made sure that she took pain medicine regularly, just to make sure she did not hurt.
The day came, January 18, 2022, when we had to choose to put her down because we loved her so much. Our daughter, also a vet, and Dr. Clay, Rosie's vet, all agreed. We have had to put down many dogs in our life, but Rosie was the most painful, not only because she was so sweet but maybe because she was a little handicapped, but she did not know that. Three legs did not seem to bother her much in the beginning, but in the end three legs made it so hard on her. She was around twelve years old.
Janie has grieved with us and still wanders around the house and checks all the places where Rosie had a bed. She sort of stepped back when we got Rosie in 2015, as if she knew Rosie was a little different and needed special care. Now she seems to be stepping up and enjoying all the attention she is receiving.
A thousand thanks go to DFW Cocker Rescue for giving Rosie to us. Rosie gave us years of love which we will never forget. She made life special for us. She was a little angel, and we just feel that she is now flying around in Heaven with four legs and wings!